Auction Status
| | |
| --- | --- |
| Status: | The Auction Is Now Over |
| Bidding Opens: | Mon Oct 26, 2015 05:00 AM |
| Bidding Closes: | Sat Oct 31, 2015 05:00 PM |
| Timezone: | Canada/Eastern |
| Currency: | CAD (Canadian Dollars) |
Get Social
— ADVERTISEMENT —
Welcome To The Auction!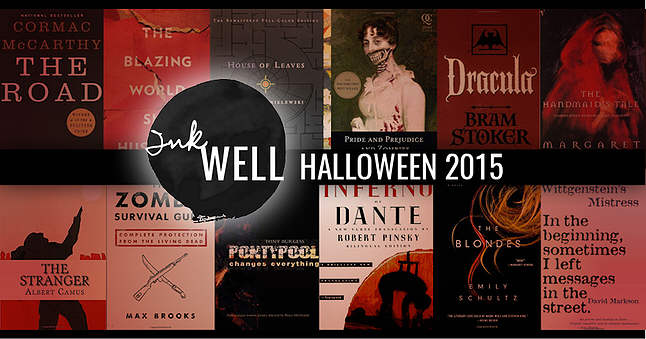 InkWell's mission is to run writing workshops for people with mental-health and addictions issues led by professional artists with lived experience of mental illness. We envision a vibrant community of writers and readers in which all live free from stigma. We are guided by values of Respect, Empowerment, Equity, Access, and Diversity.
This Halloween, join InkWell Workshops for a night of readings, prizes, costumes, and dancing for a good cause. The night begins with short readings by each of our instructors followed by a dance party.
In addition to our silent auction, awesome prizes will be raffled off throughout the night:
* HarperCollins Book Set http://www.harpercollins.ca
* Penguin Random House Book Set http://penguinrandomhouse.ca
* CD from Delta Will http://www.deltawill.com
* Subscription to Room Magazine www.roommagazine.com
* Subscription to Humber Literary Review http://humberliteraryreview.com/the-humber-literary-review
* Subscription to PRISM international http://prismmagazine.ca
* Life in Homemade Dessert Basket http://www.lifeinhomemade.com/
* Writers' Trust of Canada Fiction Prize 2015 Shortlist http://www.writerstrust.com/Awards/Rogers-Writers--Trust-Fiction-Prize.aspx
DJ Chandler Levack will be spinning spoooooooky hip hop and 90s R&B.
Come dressed as any literary character — in zombie form. (Or just come dressed as your fabulous, bad-ass self. We don't mind. Really.)
Tickets are $10 adv/$15 door at The Steady Bar & Cafe in Toronto.
For more information about InkWell, visit http://www.inkwellworkshops.com/
Winning Bidder Payment Information
Please note that the items in this online auction will be transitioning to our in-person auction to be held at The Steady Bar & Cafe in Toronto, 7pm-Midnight on October 31st. If you are not in attendance, you may still be outbid.
Winning bidders will be contacted post auction to make arrangements for payment and pickup/delivery of their items. PLEASE NOTE: All bids are binding, and payment will need to be received by November 7th, 2015.
Payment Types Accepted:
Cash (In person only please)
Check (Please make payable to "InkWell Workshops")
To arrange sending us a payment, please contact us through [email protected]
Winning Bidder Item Pickup/Delivery:
Winning Bidders can pick up their items by making arrangements with us through [email protected]
Shipping may require an additional fee. Contact the Auction Administrator For Details
General Auction Information
The time on this server will be used to determine the start and end times of the auction. This time may be off from your local time. Refer to the approximate time in the right hand side of this page.
This auction transitions to a live in-person auction after online bidding closes. You still may be outbid at the live event. The online portion of the auction will not reflect the final live auction results.
When the live event auction closes, all winning bidders will receive notification regarding the status of the items they have won.
You must register an account in order to place bids. Click Register on the upper right hand side of this page in the login area. Once you have registered, a confirmation/activation will be emailed to you. You must click on the link in the email message to complete the registration process. If you haven't received your confirmation email, please check your "junk mail" or "spam" folder as it may have gone there. You can also re-request the confirmation email. The link for resending the activation code can be found in the login area.
NOTE: eFlea provides a service that facilitates silent auctions for charities & groups/fundraisers. The items up for bids in this auction are listed by the group raising the funds. eFlea is not responsible for the accuracy of the item listings. Please verify item details with the auction administrator(s) prior to placing any bid(s). While eFlea tries to verify the auction administrator(s) and charity/group, we cannot guarantee their validity. Please be cautious and participate only in auctions where you are familiar with the groups and/or administrators.
Information On The Bidding Process Frequently Asked Questions
Please Note that all bids are final. By placing a bid on an item you are agreeing to a contract. You will enter into a legally binding contract to purchase the item from the seller in the event that you are the highest bidder at the time the auction closes. You are responsible for reading the full item listing, and understanding the above instructions and accepted payment methods. The Seller (auction administrator) assumes all responsibility for listing these items. The bidder's source IP address is logged for all bid transactions. Persons placing fraudulent bids may be prosecuted in a court of law.